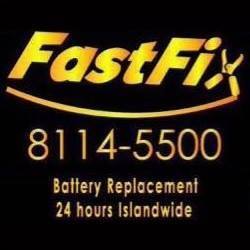 FastFix Car Battery Replacement Service
Who are we...
"Car battery flat or faulty" is the most common form of car breakdown. In Singapore - this happens every 18-24mths due to our heat and humidityand also because of city driving. Indeed having a dead car battery is one of the most troublesome car problem! The car cannot even start so there's no way to drive to a car workshop for service.
We Don't Just Change Car Battery
We change car battery of course; but we believe that our mission is not only to help you with an Onsite Car Battery Replacement Service. Our real job is to get you back on the road ASAP. Fast Fast and Cheap Cheap with good quality car battery. For that reason, we choose Amaron & Hoppecke. These car battery brands are market leaders trusted by taxi companies and the military. It's no wonder they have more than 50% market share for after-market car battery recovery.
Our images
Where to find us ..